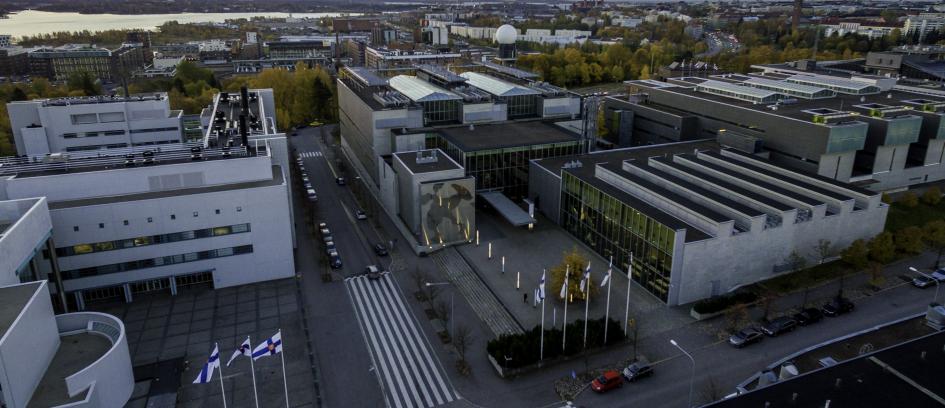 Venue
Meetings are held on Kumpula Science Campus of the University of Helsinki. Meeting hall CK112 is located on the bottom floor of Exactum building (Gustaf Hällströmin katu 2 B).
In the below map you can see the Campus area with the nearby bus stops marked (click to enlarge). Bus 506 from and to Pasila stops at the bus stops marked with letter G. Bus 56 from Käpylä stops at bus stop E and leaves from stop D. Buses from the city center primarily stop on the bus stop marked with D and leave from the stop marked with E. We encourage you to further familiarize yourself with the location and available public transit routes using the Helsinki Region Transport (HRT) Journey Planner.
.
Accommodation and travel
We have pre-reserved rooms from two hotels. Details for room reservation are given to you after you have completed the meeting registration.
Hotel Holiday Inn Helsinki Exhibition & Convention Centre (Messuaukio 1) is located next to Helsinki Exhibition Center (in Finnish: Messukeskus) near Pasila railway station, approximately 2 kilometers away from Kumpula Campus. Finlandia Park Hotel Helsinki (Pohjolankatu 38) is located in Käpylä approximately 700 meters southeast from the Käpylä train station. From the Finlandia Park Hotel Helsinki, the walk distance to Kumpula campus is ca. 1.7 kilometers.
Airport trains P and I stop at both Pasila and Käpylä railway stations. Airport train P is the train to Pasila/Käpylä and I is the train to airport. Bus 506 takes you from Pasila to the meeting venue. From Käpylä you can also hop on to the bus 506 on Koskelantie near the Park Hotel or take the bus 56 to Kumpula.
The below maps show how to get from the pre-reserved hotels to Kumpula Campus. The two maps on the left shows the route from Hotel Holiday Inn Exhibition & Convention Centre (left: bus 506, center: walk) and the rightmost map displays the route from Finlandia Park Hotel Käpylä.
For further public transport guidance, please, visit the HRT web site. You are also welcome to use the Journey Planner. For the venue location you can use the name of the building Exactum. Similarly, the Planner recognizes Airport for Helsinki-Vantaa airport. The classic HRT Journey Planner which uses less data bandwidth (e.g. data roaming) is available here.